A marketer, or distributor, is a natural person with a business activity, or a company, who specializes in a certain range of products whose purpose is to buy products from suppliers / manufacturers in large volumes, in their country or by importing said products, either to transform and sell them, or only sell them in your country, or in any other market identified as potential for the marketer through its own or third party's established distribution channels, under its own brand.
The marketer, the network of points of sale or distributors, the consumers: these are the 3 players in the world of distribution

We have more than 20 years working with this industry, we know it well and we know its very specific operation, we propose a comprehensive solution for the management of your company, your own branches, as well as the relationship with your network of clients and distributors.
Comprehensive solution for distribution chain management
For your own branches. Your network of customers and distributors.
Better control = Greater profitability...

Website with eCommerce

Multiple websites

One for your customers who are consumers of your products or services. Another for your distributors. Each with custom contact forms. You can offer the service of home delivery or collection at the point of sale.

Multiple online stores

One for your consuming customers. Another for your distributors. And you can have more. Your distributors will be able to receive commissions for the purchases of their clients. Customers will be able to collect orders at your points of sale.

Web portal for your clients

Your clients will be able to see the history of their invoices, like any other documents that you want to share with them.

Live chat and contact forms

Convert visitors into leads, live either through chat or with contact forms with segmented data.

Create your sales strategy

Design, implement and adjust your pricing strategy to maximize revenue. Create different price lists based on the customer's conditions, whether it is B2C or B2B. Convince your customers to buy more with discounts, coupons or promotions. Send quotes requesting the acceptance signature of your client to validate the order.
Point of sale
Compatible with any hardware. No installation or specific hardware is required. For stores like restaurants.

Both online and offline

It does not stop working even if your connection fails.

Install new stores quickly and easily with an internet connection. Then use it anytime, anywhere. Although it is necessary to have an Internet connection to start it, it will continue to work even if the connection is cut off completely.

Stay in touch with your customers

Reward your loyal customers with points, gifts and discounts with loyalty programs. Register the tax data of your commercial clients and issue invoices instantly and send them by email.

Integrated inventory management

Real-time control and accurate forecasts to manage supply. You can see in real time the availability of products without wasting time.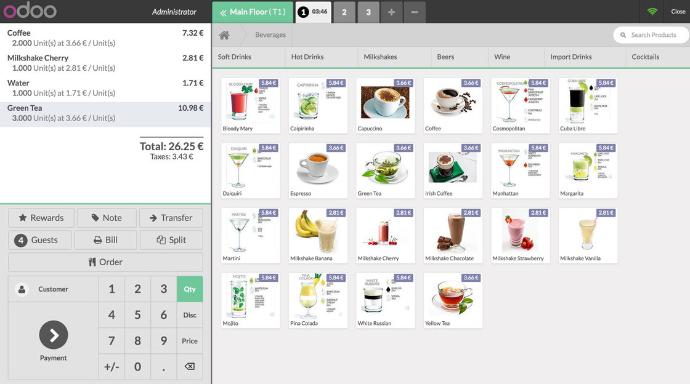 Management of contractual information
Contracts and legal documents

You will have all the important dates and the files of the legal documents, as well as all the lease contracts of your points of sale in one place.

Training and certification

You will be able to prepare the agenda of a training, assign teachers, invite students, prepare the required materials, separate the place, and issue a certificate at the end of the event, send, receive the approval signature online, and keep the document with the record of the date and of the persons trained.
Inspection visits

You will be able to make the checklist of each visit from the system, send, receive the online approval signature of the audited person, and keep the document with the date registration.
Digital marketing... The key to increasing your profits
Email marketing

Send thank you emails to inform your prospects and customers of new products, new openings, coupons or promotions. It helps you generate more sales.

Social media marketing

Plan, monitor and analyze your social accounts in one place. Send push notifications anywhere on the web. Chat with visitors and convert them into leads. Track links to measure the effectiveness of your campaigns.

SEO and Google Analytics integration

Monitor the analysis of your events every step of the way. Each marketing tool is also linked to Google Analytics to provide a 360 ° view of your business. Increase your visibility and attract more attendees.
Automation of your campaigns

Automate your workflows and improve your company. Segment the database of your prospects and customers to deliver the right message at the right time. Establish advanced marketing workflows that focus on your prospects and efficiently nurture them through your sales funnel 24/7.


Efficient lead and customer management system

With CRM, you enable an integrated approach to generating and fostering leads and also converting them into real customers.
Share your communications with all your contacts, prospects and customers...

Blog

Develop your content marketing strategy. Focus on content production, forget about the tedious backend. You just have to sit down and start writing. The blog allows you to start in a very short time, drag and drop will allow you to design an outstanding, attractive and mobile-friendly blog.

Newsletter

Increase your subscribers. Create newsletters with email marketing. Get recurring visitors and increase your blog traffic. Easily collect your readers' email addresses with the smart newsletter signup pop-up that appears when they are about to leave the website.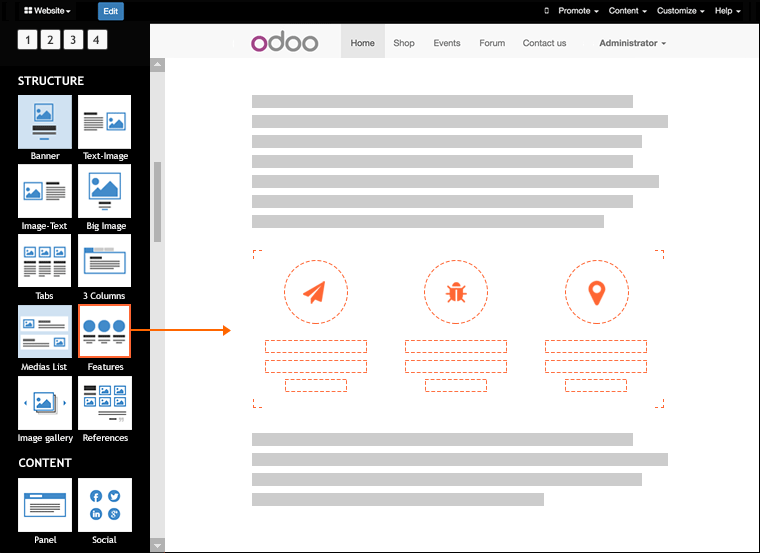 eLearning and events
eLearning

You will be able to digitize the operation manuals, create videos and organize courses to certify the personnel of your points of sale or distributors. It will be a very useful tool for you and all of them. They will be able to review and take the classes when they have time.


Events

Organize events online or in person. Organize calendars and manage speakers. Sell ​​sponsorships for your events and promote your distributors. The best tool for your conventions, trainings or events to promote your brand.

SEO and Google Analytics integration

Monitor the analysis of your events every step of the way. Each marketing tool is also linked to Google Analytics to provide a 360 ° view of your business. Increase your visibility and attract more attendees.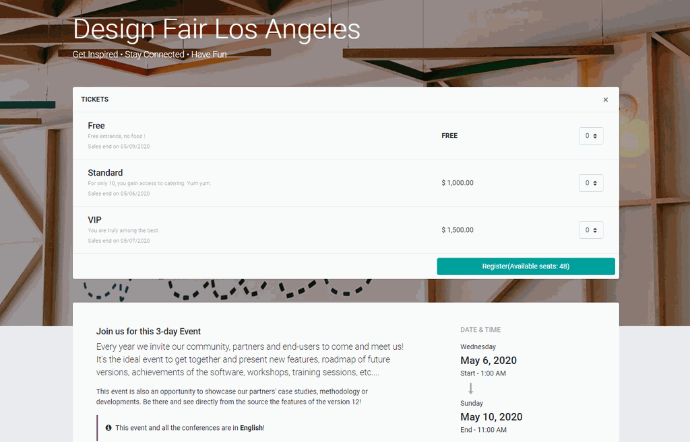 Control your operation
Inventory

Get the most efficient storage method and improve all your internal operations. Control inputs, outputs or transfers between warehouses. Make physical content and adjustments without printing reports, all from your mobile device. Create kits, prepare orders to fill including the tracking number of the parcel, and much more.


Purchases

Improve the performance of your purchases and inventories with supply rules based on stock levels, logistics standards, sales orders, manufacturing orders, etc. Select different replenishment methods for each product depending on your manufacturing and delivery strategies.

Accounting and reporting

Eliminate the time to capture accounting policies manually. Archive each of the pdf files on the same platform and relate each document to each accounting policy. Make the bank reconciliation in one click, synchronizing the movements of your bank account with the system. Get in one click the tax situation of the month, the reports with the SAT, and the financial statements, situation against budget, like any report and KPIs of your business.

Control of your imports

Control the entire import process of your products, valuing your DDP (Delivery Duty Paid) costs, integrating all the costs related to the import that are freight, tariffs, fees and expenses of your customs agent.

Do you want to grow your business?
Join us in making your business more profitable and a better place to work.